'Black Panther' shines with insight, nuance
Hang on for a minute...we're trying to find some more stories you might like.
The futuristic jet streaks across the sky over scenes of untamed jungle and serene pastures. The jet turns slightly to blast toward a mountainside, and as a smiling voice mutters, "This never gets old," the mountain fades away to reveal a burgeoning metropolis formed half from the cover of a sci-fi pulp novel, half from the ancient architecture of several African nations. This vision of Afro-futurism is Wakanda, and its king has come home.
Directed by Ryan Coogler and written by Coogler and Joe Robert Cole, "Black Panther" premiered Feb. 16 to an opening week of $292 million domestically and $520 million worldwide. The film stars Chadwick Boseman as T'Challa, Michael B. Jordan as Erik Killmonger, Lupita Nyong'o as Nakia, Danai Gurira as Okoye, Martin Freeman as Everett K. Ross, Daniel Kaluuya as W'Kabi, Letitia Wright as Shuri, Winston Duke as M'Baku, Sterling K. Brown as N'Jobu, Angela Basset as Romanda, Forest Whitaker as Zuri and Andy Serkis as Ulysses Klaue.
The cast is relatively large for a superhero movie, as all the actors listed above are key players in the story. This makes the flick feel more like an ensemble piece than a single hero's journey, and as every single actor is turning in a stellar performance, "Black Panther" is all the better for it.
"
Killmonger is easily the most complex and compelling villain in the Marvel Cinematic Universe."
— Jaren Tankersley
Of course, any longtime fans of the comics coming to see a big-screen adaptation will be primarily concerned with the main character whether or not the film is. These fans need not worry. Boseman not only carries his excellent performance from "Captain America: Civil War" into "Black Panther," but improves on it, simultaneously radiating warmth, authority and wisdom. Boseman's T'Challa is a warrior-king to his core, a perfect translation from page to screen.
Yet for all Boseman's brilliance, Michael B. Jordan continuously steals the show as Killmonger. Killmonger is easily the most complex and compelling villain in the Marvel Cinematic Universe, in large part due to Jordan's performance. Although Killmonger is an angry man with much to anger over, Jordan plays the villain mostly quietly (even when he does shout, it is more of a proclamation), with a note of deep melancholy, showing that although Killmonger has done despicable things to achieve his ends, those actions do not rest well with him. However, Jordan never shows any doubt or hesitation in Killmonger, which is important, as the flick presents his ideas as at least partially correct, though his methods are inexcusable. 
Thanks to those ideas, the writers of "Black Panther" can also take the credit for the movie's excellent villain, in addition to most of the movie's better features. The script of "Black Panther" is just as nuanced and complex as its main villain, with considerably more to say than the average action beat-'em-up. This movie speaks openly about racism, the legacy of imperialism, the responsibility of wealthy individuals in minority groups to assist their oppressed fellows and the responsibility of others to assist the oppressed as well.
"
In short, "Black Panther" is about race."
— Jaren Tankersley
In short, "Black Panther" is about race. This is not to say "Black Panther" is about race relations–the movie has exactly two white characters–but about the effects race has on individuals and societies of color. For a movie in which a man dressed as a large jungle cat drops from an airplane to fight men with guns barehanded, this is weighty subject matter. But the film handles its themes with insight and maturity, creating a valuable contribution to the entire genre of superhero movies.
The other elements of "Black Panther" are in the same vein as the script and acting. The score by Ludwig Göransson is excellent, the cinematography by Rachel Morrison is excellent and the production design by Hannah Beachler is excellent. When put together, these more technical elements add a great deal to "Black Panther" and its setting.
Wakanda is perhaps the greatest accomplishment of "Black Panther." The home country of T'Challa feels lived-in and real, with both a storied history and a complicated political present. Every character from the country acts like members of an actual culture, with genuine love and concern for their homeland, and the interlopers in Wakanda are in constant awe as to the technological advancement of what is supposed to be a poor agrarian economy. When Wakanda reappears in "Avengers: Infinity War," the destruction wrought on the small African nation will tug on the emotional connection forged by "Black Panther."
Apart from some only passable CGI, one plot thread which stays too much in the background and one somewhat distracting costuming choice, "Black Panther's" execution is flawless. What will determine the individual's reaction to the movie is their reaction to its intention. "Black Panther" is a film written, directed, acted and produced by people of color for people of color. In the theater, this white reviewer was struck by exactly how little the movie on screen was aimed at him. While to me this is a breath of fresh air, "Black Panther's" square focus on an audience of minorities may serve to alienate those who do not agree with what the creators have to say.
Yet even if a potential viewer does not believe he will agree with Coogler and company's message, I would encourage him to go see "Black Panther." The movie itself is phenomenal, and while the message is challenging, it is also valid. Don't skip one of the most thoughtful, important and well-made superhero movies of the last decade, and possibly of the genre's history.

About the Contributor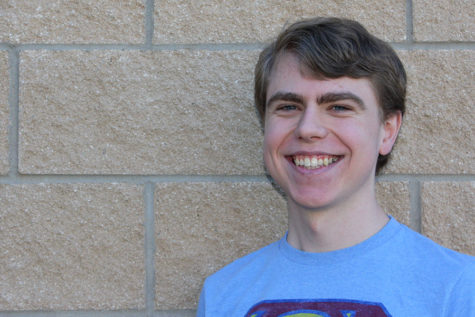 Jaren Tankersley, Co-Editor in Chief
Salutations, I am Jaren Tankersley. I am a senior, and I am very excited to spend my third and final year on the Eagle's Tale staff as Co-Editor-in-Chief....