Say yes to the Amazon dress
Hang on for a minute...we're trying to find some more stories you might like.
With prom season comes a manic search for the perfect dress. What neckline? Which cut? Color or print? Will someone else have the same one as me? Prom is simply about having fun, not anxiety or spending money. 
I have never been one to drop big bucks on anything. Being raised as a bargain shopper, I scour clearance and sales racks for what I'm looking for. From my experience, no matter what item you want, there is always a better price somewhere else. It's only a matter of diligence. 
I've found some of my most favorite clothes on the clearance rack for less than $10. I've found jeans for $5 and name brand sweaters for $2 along with many other pieces in my wardrobe.
Prom does not have to be about spending money. There is absolutely no need to go through your (or your parents) entire savings account for one night. Style and quality do not have to be sacrificed for price. The same amount of fun and fashion can be had for next to nothing.
For prom my sophomore year, I spent approximately $100 total. Still significantly less than the price of just a dress. My secret? Amazon.
I knew what kind of dress I wanted, what cut, color, the whole shabang. Though the idea of going out to try on prom dresses was desirable, I looked at Amazon first. Within 30 minutes, I found exactly what I had in mind. The price tag? $30. I had never received more compliments or questions about an outfit in my life. It was astonishing for those questioning its origin to hear I bought it online.  
"
Yet again I returned to good ol' Amazon for my dress this year."
— Macy McClish, 11
Yet again I returned to good ol' Amazon for my dress this year. Though I only had a basic idea in mind, it was only by happenstance I found the dress I would wear to prom, but nonetheless, it is better than I imagined. The best part about it was it cost only $70. 
However, a word of caution. When online shopping, being meticulous is a must. In order to find something of good quality, reviews, product descriptions and the sender information must be read thoroughly. I have seen too many sad outcomes of online shopping. Another thing to consider is free returns. If the dress doesn't fit or is just simply not what you wanted, it will be so much better to know there will be no penalties when trying to get a refund rather than discovering a little too late, the not-so-perfect dress has to find a home in your closet.
Shopping smart doesn't solely apply to dresses, it can be utilized in any other facet of the evening. My shoes? On sale. (I still wear them to many events today). Jewelry? Clearance. Handbag? Borrowed. 
To have the best experience at prom doesn't mean spending money. To have the best prom, make the best memories at prom. Dance, take pictures and laugh. It will only be as good as you let it, but if your concerns are materialistic, your memories will be too.
About the Contributor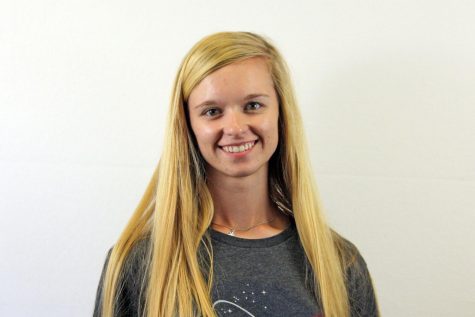 Macy McClish, Editor-in-Chief
Hey! I'm a senior and this will be my third and sadly final year on staff. I am currently one of the three editors-in-chief and the senior drum major for...