Taking a rest note
Assistant choir director reflects on experience at Canyon High
Hang on for a minute...we're trying to find some more stories you might like.
The floral curtains which once swayed in the window are gone. Decorations and cards handmade from students have been taken down, leaving the walls empty. But her smile remains bright, and her laugh is audible far beyond the choir room doors. She is still there teaching, making memories and sharing her love of music with the students.
After eight years of teaching at Canyon High, assistant choir director Kelli Harter will resign to spend more time with her two children and husband but will be on campus every Tuesday and Thursday as a private vocal coach for students. Harter graduated from WTAMU and taught at Caprock High School for two and a half years as a vocal coach and ran a vocal studio before working for CISD. 
"Mr. Farren hired me as a staff singer at his church a couple of times, and we had this friendship," Harter said. "When he had the assistant position open we talked, and I was like, 'Oh, yeah. I would love to come over and be in Canyon,' which was and still is this choral Mecca of awesomeness. I knew I had to be part of that."
"
She's such a good complement to who we are."
— Brandon Farren
Head choir director Brandon Farren said he knew he wanted Harter for the assistant director position because of her talent and skills.
"We pursued her pretty heavily to come here," Farren said. "She's such a good complement to who we are. After having a male assistant before Harter, it was such a nice change, because she is such a breath of fresh air."
As assistant choir director, Harter assisted in varsity rehearsals and helped with administrative duties of the program such as communication and paperwork. She also directed the mixed and women's non-varsity choirs. Harter said she always knew she wanted to be a choir director.
"I can remember being a little kid, lining up my stuffed animals and teaching to them," Harter said. "My mom is a teacher, my dad is a teacher and my grandmother is a teacher, so I think it's in our history and in our DNA."
Farren said Harter has a passion for education.
"She has a passion for kids. She has a passion for education. She has a passion for everything she touches," Farren said. "She never does anything halfway. Everything she does is 100 percent all the time. She gives up time in her personal life all to make sure her kids and her students are taken care of and her job is done well."
Harter began playing piano when she was 4 and said she can attribute her love of music to learning to play.
"
Her greatest strength is her ability to love kids who are hard to love."
— Brandon Farren
"I first started falling in love with Russian music, Rachmaninoff really, in piano," Harter said. "I can remember listening for hours on end and completely being enveloped by the music. It spoke to me in a way I could not and will not be able to explain."
Harter said she fell in love with the relationships she formed as a vocal coach and wanted to experience it on a larger scale.
"I loved teaching voice lessons, but I would sit and watch the choirs rehearsing, and I was like, 'That's what I want to do,'" Harter said. "'I want to be in front of a group of different people and work to bring us all together for one purpose and one goal and have those relationships that can build and continue to grow.'"
"I learned so much about how much relationships have so much impact on a student's growth," Harter said. "There's so much, you can't even encompass the amount. You learn a lifetime worth of stuff when you teach. It's humbling and gratifying all at the same time."
Farren said Harter's talents go beyond her skills as a singer.
"Mrs. Harter is one of the hardest working, dedicated professionals you'll ever meet in the whole world," Farren said. "Her biggest asset is not only her voice, but her ability to teach people how to sing, especially students who sometimes get overlooked. Her greatest strength is her ability to love kids who are hard to love."
Harter said the community of teachers, students and parents showed her unconditional love and appreciation.
"
I didn't know what I had done right to be here."
— Kelli Harter
"I think being a teacher and having these relationships and being in this program specifically, it was like a community of love," Harter said. "I was being taught more than I was teaching. I didn't know what I had done right to be here."
Harter said her growth as a musician and music educator brought her closer in her relationship with God.
"Music and the Word are the closest I can come to experience sitting in a room with God," Harter said. "I don't understand how people can see the beauty of music and not understand that is a gift from God."
Harter said she hopes to teach at Canyon again.
"People don't realize how much out of class and weekend and evening time is spent for extracurriculars, but it's not a sacrifice at all," Harter said. "It does take you away from your family. When I'm at a point where I can give 100 percent to both sides, I think that's a great time to come back."
Harter said she still plans on being an advocate for choral music and choral education in Canyon, although she will no longer be teaching.
"I'm definitely not going anywhere," Harter said. "I'm staying in Canyon. I love this community and would want to be nowhere else. I'm just completely not the same. I am a definitely more open and wiser from the students, learning from them how to be and what this life is all about."

About the Contributor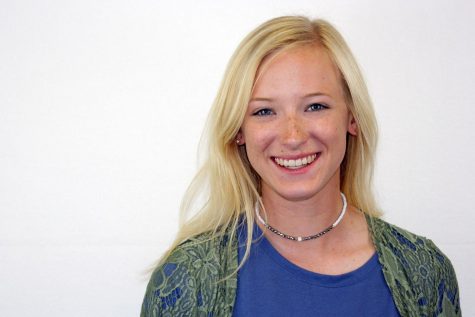 Katelyn Spivey, Editor-in-Chief
Hi there! I am a senior, and this is my third year on staff and second as editor-in-chief. I am choir president and a member of the varsity and show choirs,...