Returning to the nest
New school secretary seeks to serve
Hang on for a minute...we're trying to find some more stories you might like.
Beneath a photo-speckled bulletin board with her name in sweeping purple script, a new face beams at students entering the front office. With the ease of familiarity, she answers students' questions and buzzes visitors into the school. Into the school she once attended, Brooke Irwin has returned home.
Canyon High graduate Brooke Irwin became the new school secretary at the beginning of 2017-18 school year.
"I grew up in Canyon," Irwin said. "I graduated in '95. I attended WT for a couple years and then went to AC for a couple years."
After returning to West Texas A&M University, Irwin was offered a full-time position at Amarillo National Bank.
"I quit school, which I regret," Irwin said. "I was almost finished and regret not having a degree."
Irwin worked at Amarillo National Bank, Happy State Bank and First United Bank within a period of 10 years. After having her first child, she became a stay-at-home mom.
"
I have always been someone that enjoys helping others."
— Brooke Irwin, school secretary
"We had not planned on me staying home, but it worked out," Irwin said. "I stayed home for nine years."
Along with filling her role as a mom, Irwin also started a small craft business she ran from home.
"I make anything anybody could ask me," Irwin said. "I love making wreaths. I love decorating and different house decor items. It was called Fire Wife Designs, and I did a couple of craft shows. I just sold it out of my home and had a little Facebook page. I haven't been advertising, but if somebody asked me to make something, I will. I just love to do it."
When she isn't in the front office, Irwin enjoys spending time with her family, gardening, crafting and reading.
"My kids keep me pretty busy," Irwin said. "I love being a wife and a mom.  I have two kiddos. My daughter, Bentley, is 9 and in fourth grade, and my son, Thatcher, is in kindergarten and is 5."
Whether it is cooking with her husband or reading to her kids, Irwin said she makes time to spend with her family.
"I love to read to my kids," Irwin said. "I love watching them ride their bikes. My husband and I enjoy watching movies together and cooking together. Just being with my family is really important."
Irwin said her position at Canyon High is a better fit for her than her previous job at Brady Dental Group.
"It's been really good," Irwin said. "I've really enjoyed it. I like working with the girls in the office and getting to know the teachers and some of the students."
Irwin said helping others is one of the most important aspects of being a secretary.
"Whether it's children or adults or whoever it may be, parents, teachers," Irwin said. "I have always been someone that enjoys helping others. I try to answer all the questions they may have. If I don't know the answer, I'll ask somebody to try to help me learn the answer since I'm so new. I just try to figure it out for them, whatever they have for me."
Irwin said she hopes to continue her work at Canyon High.
"I hope to stay here long-term," Irwin said. "I hope to get better at my job and learn more. Possibly help kiddos and teachers if they need it. Just do whatever I can to help others."

About the Writer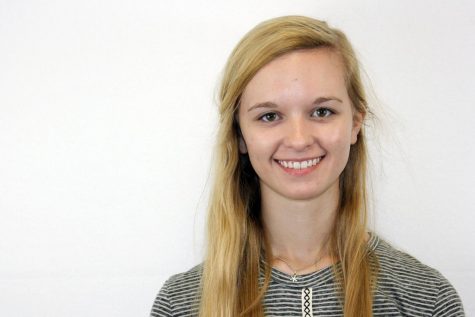 Macy McClish, Associate Editor
Hey guys, I'm Macy McClish and I'm a junior. This is my second year on staff, and I'm so excited to serve as one of the three associate editors. I'm the...