'Oz'-some book filled with action, drama
High school outcast Amy Gumm has her mind set. She wants to leave her small town of Dusty Acres, Kansas. Living in a trailer home, Amy's mother neglects her but always needs Amy to do something for her, so she stays in Kansas to please her mother. Being bullied by the pretentious Madison Pendleton at school isn't one of Amy's favorite things, either. After dreaming and wishing to leave her small trailer in Kansas, Amy is swept away in her trailer home by a tornado, thus landing in Oz.
When one thinks of Oz, they envision the beautiful yellow brick road, cute little munchkins, flying monkeys, the Wicked Witch and of course, Dorothy. When Amy arrives, however, Oz is nothing like the movie she has seen. The yellow brick road is cracked, the munchkins are fierce and stubborn, and the flying monkeys now work under the always watching eye of the now evil Dorothy.
In order for Amy to bring Oz back to the way it was, she must kill Dorothy, which is the mission given to her by the Wicked Witches, who make up the "Revolutionary Order of the Wicked."
"
The reader can follow the story line along well and will root for the hero throughout the story."
— Brailey McMinn, 10
"Dorothy Must Die" is an action-packed book written by Danielle Paige which would best suit a more mature crowd of teenagers and young adults. The reader can follow the story line along well and will root for the hero throughout the story. Three prequels have been written,"No Place like Oz," "The Witch Must Burn" and "The Wizard Returns." The second book to "Dorothy Must Die" is called "The Wicked Will Rise." Although I have not read the second book or any of the prequels yet, I will be sure to do so as soon as they arrive at my door. Waiting for the next book to come out has driven me crazy with anticipation.
The only thing I disliked was the fact that Dorothy, the character I had grown up to love, has been made crazy and evil. Before this book, I pictured her as sweet and innocent, but in this book she is insane, power-hungry and downright terrifying. Other than crazy Dorothy, the book was well written and had a great story line. I liked this book because of the description and detail Danielle Paige incorporated into the story. Each character has a unique personality, and it really draws in readers, giving them the feeling they actually there. "Dorothy Must Die" is a wonderful story which is definitely worth the read.
About the Writer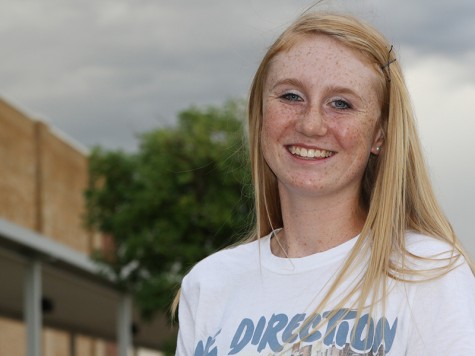 Brailey McMinn, Staff Reporter
Hello! My name is Brailey McMinn and I am a sophomore this year. This is my first year on staff, and I am on the varsity tennis team. My hobbies include...