New video production club to meet for first time Tuesday
Hang on for a minute...we're trying to find some more stories you might like.
The new video production club will meet for the first time in room 1304 Tuesday, Oct. 31 during Activity Period.
Those wishing to attend the first meeting or join the club should scan the QR code outside the library or contact the club's sponsor, soccer coach Charles Johnson. Johnson said the video production club will meet and create a video project weekly.
"We're going to try and get into some of the more advanced stuff," Johnson said. "I know today kids are really good at Snapchating and kind of producing quick little snippets of their life, but what I'm looking at is trying to get us to a point where we're creating something a little more."
Johnson said he wants students to be able to create and document memories.
"I had the opportunity to put together my son's graduation video," Johnson said "Going back through all these videos I've created throughout the years, and pictures, and it turns out to be a 45-minute video that we showed at his graduation party. People were in tears, and I was choked up because it's really awesome remembering the times we've had in the past."
"
Hopefully we can highlight our community, our school and our kids and our programs, and have fun doing it."
— Charles Johnson, video production club sponsor
Johnson said he wants the video club to serve the community.
"We're not a big school, but we're a pretty tight-knit community, and there's a lot of great things going on here in Canyon," Johnson said. "Hopefully we can highlight our community, our school and our kids and our programs, and have fun doing it."
Johnson said he first became interested in video during his time as a helicopter crew chief in the Army.
"When I served in the army, I did cool stuff," Johnson said. "I flew a lot, and I got to go to some amazing places. I got this pelican case, and I stuck my video camera in it. I had this little spot in the helicopter where I could keep it, and just about everything that I could legally record and take pictures of, I did. I just started from there, and it grew into this passion of wanting to chronicle the beautiful things in life."
Johnson said he expects the video production club to draw a variety of students.
"I want storytellers," Johnson said. "Whether they want to tell their own story or a story about other people, in the end I want to be a part of telling stories and I think we can do it through video."

About the Contributors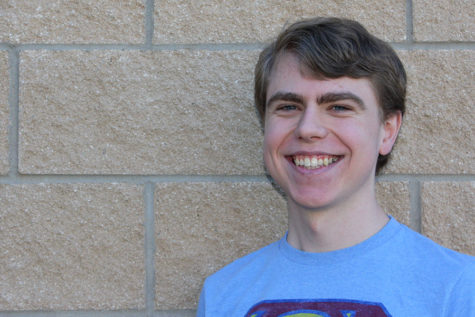 Jaren Tankersley, Co-Editor in Chief
Salutations, I am Jaren Tankersley. I am a senior, and I am very excited to spend my third and final year on the Eagle's Tale staff as Co-Editor-in-Chief. I am vice president of the class of 2018, vice president of our NHS chapter and vice president of the Drama Club. I participate in the all-school musical, UIL One Act Play and UIL Journalism and Ready Writing. In my free time, I enjoy reading and writing for entertainment, over-analyzing film and pretending I'm still any good at archery.

Laura Smith, Adviser
I'm the adviser of the Canyon High newspaper and yearbook staffs, and I love starting my day with this talented staff. We hope you'll join us daily for new content. I'm a graduate of Texas A&M University where I studied Secondary Curriculum and Instruction with a Language Arts Composite specialization. I love baking, photography, writing and traveling, especially to visit my adult children.