Sweetening up the holidays
Hang on for a minute...we're trying to find some more stories you might like.
My bangs fall from my haphazardly tied bun into my eyes. Flour has claimed everything from the counters to me. I spread a generous amount of cream cheese filling onto the pumpkin sponge cake. Not one breath escapes my lips as I try to replicate the tight spiral of a pro baker's pumpkin roll for fear of the cake cracking. I place the finished roll onto a festive Christmas platter, and admire my two hours of work, knowing it may just bring a smile to someone's face.
I love to bake. I first started baking one summer afternoon when I was 11. I had come across my mother's snickerdoodle cookie recipe. Being as young as I was, I had a lot of determination. When I was told I couldn't do something, I did it anyway. So that afternoon, I decided I was going to bake some wonderful cookies for my family. And I did. They weren't the best cookies in the world, but that was as to be expected coming from an 11 year old with no baking experience. My parents smiled anyway and said they were proud.
That was the initial spark to my pursuit of baking.
It has become my stress reliever over the years. The holidays are my favorite time to bake all different kinds of good things. I breathe cinnamon, nutmeg, cloves and allspice from November to January, and spend a decent amount of my time in the kitchen.
"
It isn't the compliments that make me want to continue to bake, it's the times when I give someone a cookie and they say it made their day."
— Macy McClish
I bake everything from snickerdoodles to pumpkin rolls. Cookies are my specialty, and I am constantly trying new recipes. Peppermint sugar cookies? No problem.  Pumpkin cream sandwiches? Absolutely wonderful. And pumpkin chai cookies? My favorite.
Baking has a special place in my heart. Like any family, it is a big part of who we are, especially around the holidays. I can't count how many stories I have of baking with my mother, my grandmother, my aunt, my grandfather, my friends or even just myself.
I like to think baking and food in general brings people together. Whether it's making the treats or just sharing them with the ones you love, it creates a special bond. It adds to the love that comes with the holidays. Every time I bake something, I always have at least one person in mind. It could be a friend didn't have the best of days, or I feel like bringing a special batch of peppermint cookies to share at lunch.
It isn't the compliments that make me want to continue to bake; it's the times when I give someone a cookie and they tell me it made their day. That's what keeps me baking. I love giving people a little bit of happiness whether their day has been amazing or absolutely dreadful. If I can make a difference in someone's life with only a cookie, I'll bake until I can't do anything more.
I know how days can never go right, no matter what happens. I understand the pain, so I like to do as much as I can to prevent that in other people's lives. That's why I bake.

About the Contributor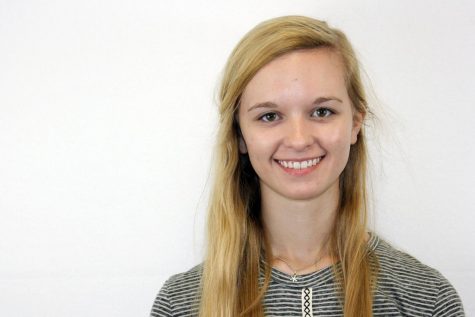 Macy McClish, Associate Editor
Hey guys, I'm Macy McClish and I'm a junior. This is my second year on staff, and I'm so excited to serve as one of the three associate editors. I'm the...