AJR album reaches deluxe quality
Hang on for a minute...we're trying to find some more stories you might like.
Unique. Breathtaking. Brilliantly composed. My favorite band leaves me starstruck yet again.
Adam, Jack and Ryan Met have progressed a long way from writing and producing their own music in the living room of their Chelsea apartment. The indie pop band had fans waiting for Sept. 21, when they released three new songs, complete with an amazing recoloring of their original album cover.
The Click Deluxe Edition includes the songs "Normal," "Role Models" and an acoustic version of "Pretender," which was originally a collaboration song with Steve Aoki and Lil Yachty. Some audiences may steer clear of the full album, as it is explicit, but these new additions are clean, and each has a unique sound.
"Role Models" is a classic AJR track, complete with a beautiful tone and somewhat trademark trumpet. I found myself singing along to it the minute I heard it, enjoying the comfortable pace of the tune. I absolutely adored the rhythm of the song, and its flow with the lyrics. As always, the boys express their despondency at the social pressures and responsibilities of everyday life. Specifically in this song, they focus on the childish way we choose to look up to people even if their intentions are not in the right place. They question their unwavering faith in the wrong people with one of my favorite lines, "Can I truly love the art when I kinda hate the artist?" "Role Models" feels like it belongs with the original album. I can't help but be in love with this new hit.
"
It went from a very pop, party song to a coffee shop jam. "
— Claire Meyer, 11
"Normal" also met the AJR hallmark, making the point that being normal and fitting in the crowd isn't always the best. They almost hit a point of nostalgia which could be compared to original The Click song "Call My Dad," as the artists ask if it's normal to desire to be at home rather than at parties with friends. This song is one of their slowest, and a haunting piano allows Jack's amazing vocals to shine through and evoke strong emotion from the listener. The music pairs with the lyrics quite well, and while the melancholy song feels short (the tune barely makes 3 minutes) and unusual for them, it's perfect if the listener is in a sad or reflective mood.
"Pretender" was the real surprise, though. I was expecting a few changes, as it was now an individual song instead of a collaboration. However, AJR really delivered. They changed the tune, the instruments and the tone of the song entirely. It went from a very pop, party song to a coffee shop jam. The acoustic version is different for the band and strays from their regular genre, but they pull it off flawlessly, truly making it a remix rather than a rerecording. The guitar complements the beat of "Pretender," and overall, I consider this new version the better of the two.
The excitement fans generated for AJR's Deluxe Edition was not misplaced. Every song released quickly made it to many of my playlists and to a special place in my heart.
About the Contributors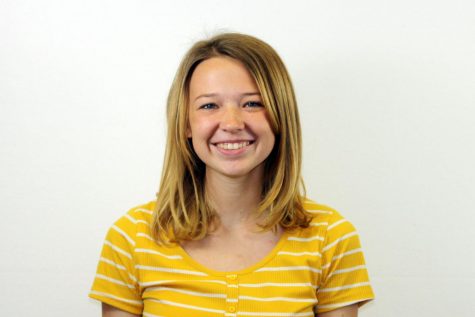 Claire Meyer, Editor-in-Chief
Hi there! My name is Claire Meyer. I am a senior, making this my third year on staff and first as editor-in-chief. When I'm not editing stories in the...
Macy McClish, Editor-in-Chief
Hey! I'm a senior and this will be my third and sadly final year on staff. I am currently one of the three editors-in-chief and the senior drum major for...