Christian pop group 1GN to perform Sunday in Amarillo
Hang on for a minute...we're trying to find some more stories you might like.
1GN is a pop Christian girl group, formerly known as 1 Girl Nation, who will perform in the First Christian Church sanctuary in Amarillo Sept. 18 at 6 p.m. Tickets are still available at panhandletickets.com.
The group debuted in 2012 and since has obtained more than 3 million views on YouTube and over 2 million streams on Spotify. Speaking on behalf of 1GN, Matt Hadley, a 2007 Canyon High School graduate and the owner of Wander Creative Productions in Nashville, said the concert will feature original songs from the group's first album "1 Girl Nation" and second album "Unite," as well as cover songs.
"They have several radio hits that they will be playing including, 'Guard your Heart', which has been on Air1 as well as many other radio stations across the nation," Hadley said. "They will also play a couple of covers throughout the evening to give some variety and bring in some songs that the audience will know as well and be able to sing along."
"
At the end of the day, that is exactly what a show is, an experience and every artist wants it to be unique to their show and unique to them as a brand and artist."
— Matt Hadley
Originally, the group was not booked to stop in Amarillo, but Hadley said his aunt and uncle campaigned for the tour date after seeing the girls perform in Nashville.
"My aunt and uncle came to Nashville to visit this past summer and the 1GN girls were doing a tour rehearsal," said Hadley, who is married to Carmen Justice Hadley, a member of 1GN. "When my aunt and uncle saw the rehearsal and the show they were really excited. They wanted to bring them to Amarillo, and so they were the ones who reached out to the booking agent to book this tour stop."
Hadley said artists work to create a concert experience that reflects what the artist wants the message and evening to feel like to the audience.
"The artist will really hone in on exactly what they want the audience to take away from the show," Hadley said. "Because at the end of the day, that is exactly what a show is, an experience, and every artist wants it to be unique to their show and unique to them as a brand and artist."
The group has received recognition for their success in the music industry, such as Top Selling New Branded CCM Artist of 2013 and Best New Artist of the Year Dove nominee of 2014.
"Their first album was aimed toward a younger demographic, while this next album is a little bit more mature sounding and more artistically creative," Hadley said. "They have a big impact on the youth demographic, especially teens. They are able to see how fun and lively their music is, but there is also an impactful message of hope and encouragement."

About the Writer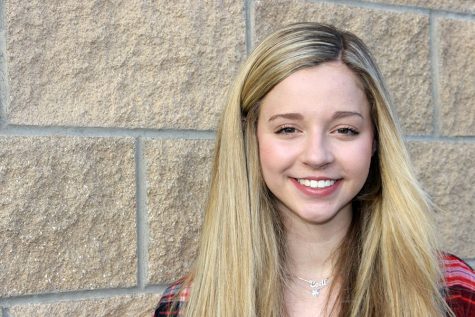 Codi Bradstreet, Editor-in-Chief
Hello! My name is Codi Bradstreet, and I am the Editor-in-Chief of The Eagle's Tale. I am a senior, so this is my last year on staff. I am on the basketball team, I am the senior class publicist, and I am involved in two leadership programs outside of the classroom and, of course, journalism. In my free time I love to nap, read, spend time with my family, listen to music and write. In the future, I would like to major in physical therapy and minor in business. I will deliver the news to the best of my ability and hopefully we can have a great year together.