Senior finds 'The Things They Carried' meaningful read
Hang on for a minute...we're trying to find some more stories you might like.
If you were to ask an individual from my generation what they knew about the Vietnam War, you would most likely receive an answer involving the rambling stories told by "Duck Dynasty's" Uncle Si and a few "Forrest Gump" references. Although it was one of the most controversial wars in American history, high school students seem to know next to nothing about the Vietnam War. To many, it's just another battle fought generations ago, definitely not as important as reading about what Miley Cyrus keeps in her backyard.
A few days ago, my tabloid-reading self was no different from any of my peers. What I knew about the Vietnam War wouldn't have filled a thimble. Now, if I could thank my English teacher, Mrs. Crosswhite, for one thing, it would be for making me read "The Things They Carried" by Tim O'Brien. As an avid reader, I had never before experienced anything quite like it. "The Things They Carried" was written in its own unique format, one that left me feeling, at times, as if I was sitting down with the Vietnam War veteran as he told me his story.
"
O'Brien holds nothing back when telling his story, from the embarrassing, to the hard-to-hear, to the unsettlingly humorous."
— Ashley Vanderford
For those of you who really have no interest in history, this book is a perfect read. O'Brien's novel is the furthest thing from drudging through a miserable history class as one could get. While you won't be any kind of Vietnam War guru by the end of the novel, you are given the opportunity to experiences a truly relatable and personalized version of the war. O'Brien holds nothing back when telling his story, from the embarrassing, to the hard-to-hear, to the unsettlingly humorous.
 Not only does "The Things They Carried" give its reader an inside look at the war, it also explores the finer points of storytelling. O'Brien describes his love of telling stories and how it has been a coping mechanism for him since a young age. The novel makes its readers think deeply about the true purpose of a story and reconsider the validity of fiction.
As the only school-assigned book I have ever enjoyed reading, "The Things They Carried" is the type of novel that will strike a chord with this dystopian-loving generation. As "The Hunger Games" and "Divergent" sky rocket to fame, "The Things They Carried" can find its place amongst these battle-packed blockbusters. I absolutely encourage the non-readers and history-haters, as well as word-lovers and history-buffs, to read this impactful novel.

About the Photographer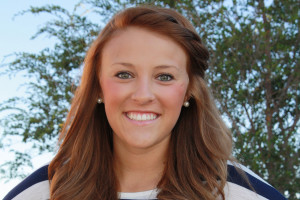 Cortlyn Dees, Co-Editor-in-Chief
My name is Cortlyn Dees and this year I am Co-Editor-In-Chief of The Eagle's Tale, alongside Kori Adair. I am a senior, and this is my second year as a varsity cheerleader. I am a member of National Honor Society, American Sign Language Honors Society, and the Quill and Scroll Honor Society. I am the historian for the Class of 2014. I am passionate about journalism and enjoy writing sports stories. I am attending the University of Arkansas next year and will major in broadcast journalism. I am in love with Pure Water tea. I am supportive by an amazing family and group of friends. I'm looking forward to a great senior year, and I will see you on the field… or court… or track!