Madden '12 pumps game past '11
Hang on for a minute...we're trying to find some more stories you might like.
This offseason in football has been quite hectic on both the professional and college level. The NFL lockout stole most of the show, and players have had little time before the preseason games to get back into their stride. The lockout also affected EA Sports as they had to delay the release of Madden NFL '12 to August 30th instead of the 9th as they planned in advance. A little bit more time to shape the game, however, has done quite a bit to help the game.
The rosters remained untouched from the free agent frenzy that ensued when the lockout ended, so players can change the teams themselves if it bothers them that much that Marion Barber III is still with the Cowboys despite Dallas releasing him over the offseason. Unless, of course, you have access to Xbox Live or PlayStation Network, in which case all you have to do is use the EA Onlinepass that comes with every copy of the game and get automatic roster updates. No more rushing to change up the teams every time someone in real life gets cut or traded.
An odd thing I noticed is that I didn't have a hard copy of the instruction manual in the game. It may have just been my copy or only on Xbox 360, but they only included the required warnings that come in every instruction booklet that no one except me reads. It later came to my attention that EA Sports decided to put their manual in-game and available to players throughout the course of a game. It was confusing at first, but that idea was very innovative for them even if it was a rush job when they realized a mistake in printing the instructions.
The actual gameplay is a step up from last year's edition. The physics engine is improved to where there are no pre-animated actions. Every tackle, block, rush, pass, goal-line stand and onside kick plays out different from every other. Runners, receivers and quarterbacks can still fight for yards and try to stay alive until brought down, which in some cases could require another defenseman. Each team gets authentic introductions and each stadium is more lifelike than in '11.
EA Sports decided this year to make significant changes to Franchise Mode. Player roles return to show how each member of the player's team and opponents' teams stack up, allowing players to make deals for men that lean toward strengths and some that cover for weaknesses. In-game players may also display rating changes depending on their performance game by game. If one or more men start doing well in games, racking up reasons for teams to fear them every time they set foot on the field, they start off on hot streaks, though a bad game can end one. If they botch too many plays and start trembling at the sight of other opponents, they hit cold streaks and need a better game to get back on track.
Play Now mode still has custom matchups in addition to Super Bowl XLVI for players who don't feel like going through an entire season and skip to the biggest game of the year, set at Lucas Oil Stadium in Indianapolis. EA Sports even worked in endings specific to each team for winning the championship, which includes the confetti shower, MVP naming, Super Bowl parade and a visit to the White House to shake hands with President Obama and hand him a #44 jersey from the winners.
Overall, the game seems that they were just out to pack in as many improvements as they can just to shove in the consumer's face, but I could not find a lot of things wrong with it. The adaptable computer opponent can get cheap at times, but Madden has always had that to keep games challenging until the final whistle.
I recommend the game for all fans of the sports game genre and all who have bought and/or played Madden before and enjoyed it.

About the Writer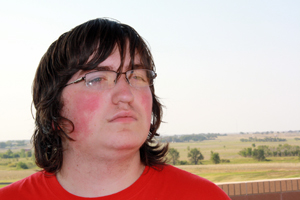 Trevor Ferril, Associate Editor
I am Trevor Ferril, senior and associate editor for this year's Eagle's Tale staff. This will be my third and final year on staff and my second as...